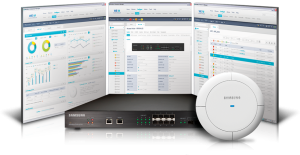 The Samsung WLAN solution provides integrated and scalable WLAN infrastructure with a management capacity of up to 500 access points per controller, 10,000 client devices with a 20 Gbps data plane. The future-proof Samsung WLAN solution ensures users a reliable and scalable wireless access as well as secure and greater coverage.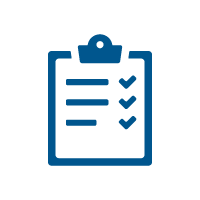 Product Features
Air Equaliser
Intelligent Beam Selectable Antenna
Air Move
Voice Aware Traffic Scheduling
Self Organising Network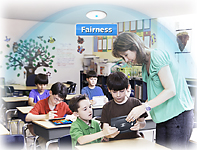 Samsung's Traffic Schedule technology ensures a fully optimised Wi-Fi service by allocating equal airtime to multiple devices. This technology guarantees airtime fairness when multiple devices are concurrently connected to an AP. It also delivers seamless service, even in an environment where devices with different traffic demands and capabilities are used. In addition, it can maximise the AP's total throughput by more than 50% when compared with competitors' products, providing the best performance that adapts to the Wi-Fi connection specifications (a, b/g, n, ac) and signal intensity characteristics.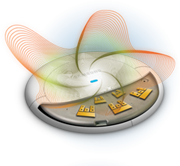 Intelligent Beam Selectable Antenna (IBSA)
A Samsung 3 x 3 AP contains 14 antennas. Two antennas are used for RF monitoring and the remaining 12 provide an optimised RF pattern selecting a beam for each environment. As a result, dead areas are minimised, service coverage is expanded, and the receiving sensitivity is 2 dB higher than competitors' products. This means that the access point can accurately receive a signal from a mobile device with typically weak transmit power even when it is some distance away.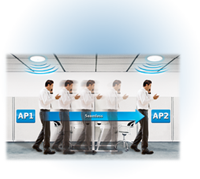 Samsung AirMove technology applies the handover methodology used within LTE mobile communications to deliver seamless roaming. Timing and choice of access point is determined centrally by the Access Point Controller (APC) which has a full picture of device activity and adjacent AP loading.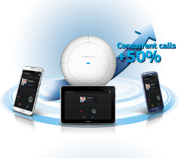 Voice Aware Traffic Scheduling (VaTS)
VaTS is a Samsung patented technology, which efficiently sends Voice Frames to multiple devices using mobile communication traffic scheduling technology developed for LTE networks. The result is that increasing the number of concurrent calls will not degrade voice quality, increasing the effective capacity of the network.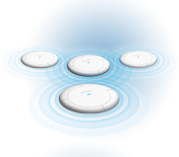 Self Organising Network (SON)
Samsung have enhanced the standard Wi-Fi access point Tx power and channel optimisation technology using techniques developed for the LTE network. This technology automatically optimises the cell configuration and coverage, considering individual device characteristics within the environment. This dramatically shortens the time required for network design, reducing implementation costs, and also delivers a high level of RF quality management when the network is in use.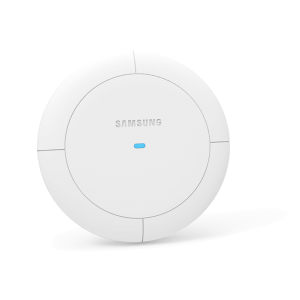 Wireless Intrusion Prevention (WIPS)
The importance of security in the enterprise communication environment cannot be over emphasised. The Samsung APs have a dedicated security RF monitoring chip embedded, which is separate to the Wi-Fi service RF chip, to enable continuous real-time monitoring of the local RF environment. This maximises the RF sensing performance without impacting on Wi-Fi data throughput as there is no need to utilise a Wi-Fi data time slot, or any increase to the system cost by adding additional monitor APs.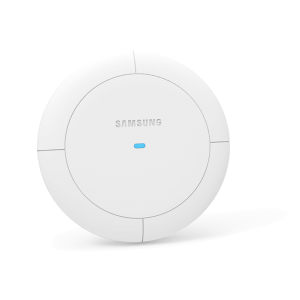 The Samsung WEA302 802.11n is a two spatial streams 802.11n wireless dual radio access point that delivers data rate of 300 Mbps and ensures ultimate coverage, easy management and secure wireless network. This model includes an inbuilt WIPS sensor to provide enhanced security.
802.11n – 2×2 MIMO
300 Mbps PHY Rate
Built-in security
Easy to manage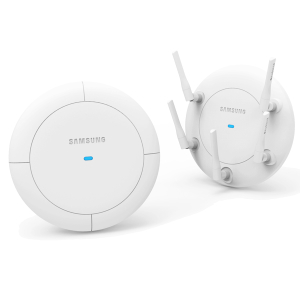 The WEA303 802.11n is a dual-radio, three spatial stream access point that offers internal and external antenna models and delivers data rate of 450 Mbps per radio.
802.11n – 3×3 MIMO
450 Mbps PHY Rate
Greater coverage
Reliable and Easy to manage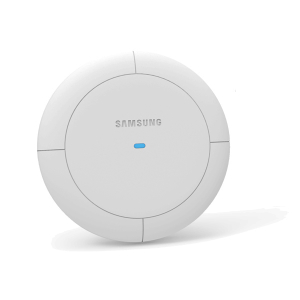 The WEA412 802.11ac is a dual-radio, two spatial stream access point that delivers data rate of 867 Mbps in the 5GHz band to ensure ultimate performance and greater coverage in medium to high density environment.
802.11ac – 2×2 MIMO
867 Mbps PHY Rate
Optimized Wi-Fi Experience
Ultimate Performance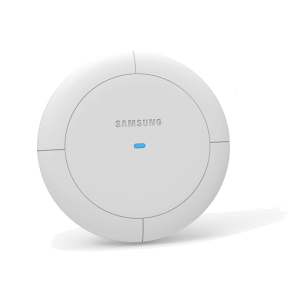 The WEA403 802.11ac is a dual-radio three spatial stream access point that delivers data rate of 1.3Gbps in the 5GHz band to ensure ultimate performance and greater coverage in high density environment. This model includes an inbuilt WIPS sensor to provide enhanced security.
802.11ac – 3×3 MIMO
1.3 Gbps PHY Rate
More Speed and Greater coverage
Better Voice Call Quality
The WEA453 802.11ac is a three spatial stream outdoor access point delivering a data rate of 1.3 Gbps in the 5GHz band. The WEA453 provides secure and high speed Wi-Fi connectivity in outdoor environments.
The WEA453e offers 802.11ac Wi-Fi connectivity, supports dual bands (2.4GHz/5GHz) with 3×3 Multi Input Multi Output (MIMO), delivering a data rate of up to 1.3 Gbps in the 5GHz band. Additionally, the WEA453e acquired IP67 certification, which authenticates that the device is dustproof and can withstand water immersion up to one meter for 30 minutes. This makes it resilient through a variety of unpredictable environments.
The three-stream WEA453e 802.11ac access point supports more concurrent devices and higher throughput than single- and double-stream APs, making it ideal for high-density environments. It supports the latest 802.11ac ready devices, but is also backwards-compatible to support older devices with 802.11a/b/g/n standard. With three external antennas, the WEA453e has beamforming capabilities for directional signal transmission.
802.11ac – 3×3 MIMO
1.3 Gbps PHY Rate
Specially Designed for Outdoor Use
Secure and Reliable Conectivity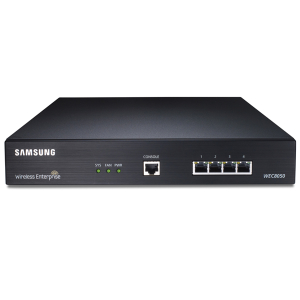 Samsung Wireless LAN Controller WEA8050
Specially for small to medium sized businesses, Samsung access point controller WEC8050 can manage up to 75 APs and 1,500 client devices simultaneously and ensures the same enterprise functionality as the WEC8500 model.
Powerful
Cost effective
Simple to deploy
Reliable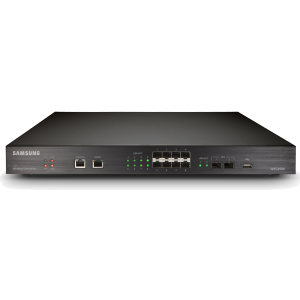 Samsung Wireless LAN Controller WEA8500
This high-performance WLAN controller is specially designed for mission-critical wireless networking. It can manage up to 500 access points, 10,000 client devices with a 20 Gbps data plane.
Scalable
Powerful
Cost effective
Convenient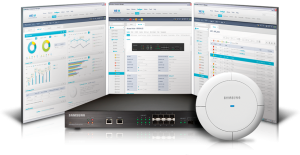 Samsung Wireless LAN Enterprise Manager
The Samsung WLAN Manager (WEM) monitors access points (APs) and access point controllers (APCs) to ensure that users get the best network capabilities out of their products.
The WEM provides operational convenience that enhances monitoring for service disruptions and resolving problems quickly. It also tracks the status of the wireless environment, granting operators fast and reliable WLAN access.
The WEM solution allows operators to check the hierarchy of the AP and APC via its intuitive user interface (UI). It is specifically designed for optimal user convenience, minimizing downtime and enhancing performance. Its UI promotes the visibility of important network events and actions, letting you judge the status of networks in a fast and effective manner.
The WEM helps to manage the wireless network efficiently without any problems relating to the configuration and troubleshooting of the AP or AP controller.
The WEM can remotely monitor the status of wireless networks at anytime from anywhere via a smartphone or another mobile device. It is able to identify and troubleshoot faults, minimizing network downtime and enhancing reliability. When a fault occurs, operators will be able to access real-time status reports
Samsung Products For Business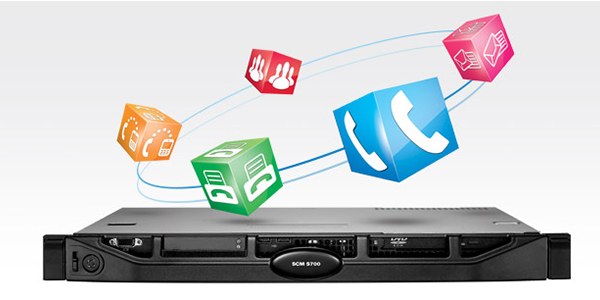 COMMUNICATIONS MANAGER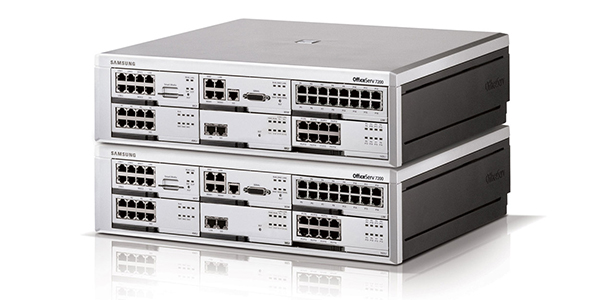 SAMSUNG OFFICESERV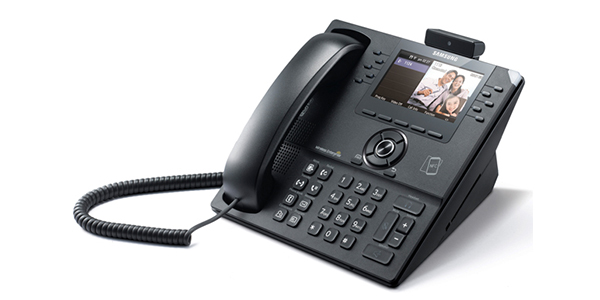 SAMSUNG HANDSETS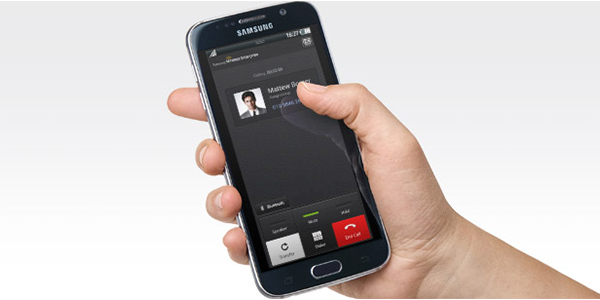 SAMSUNG MOBILITY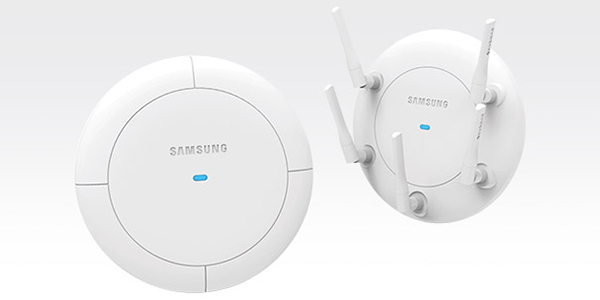 WIRELESS LAN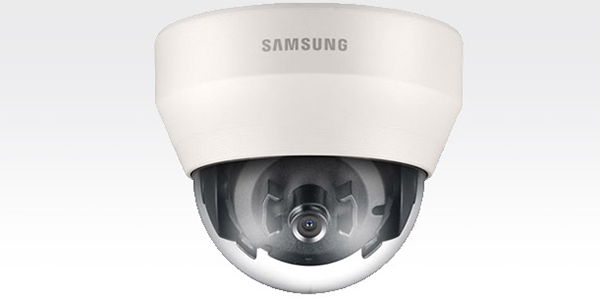 CCTV